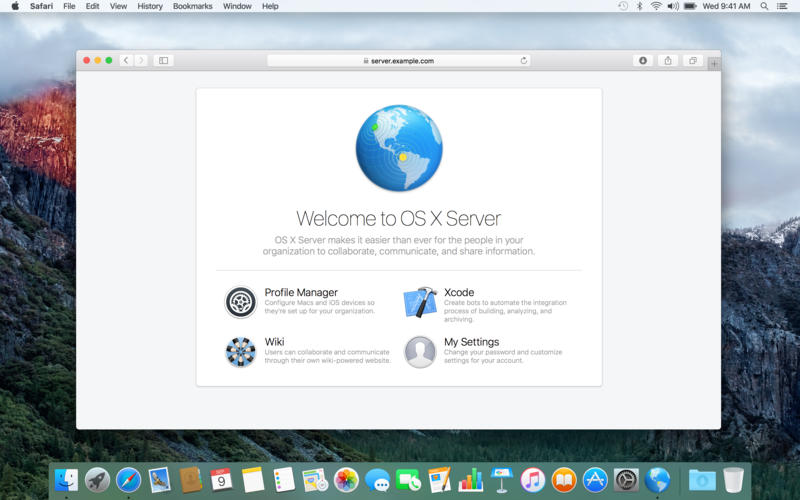 Apple has released macOS Server 5.2 Beta to developers, with a full released expected this Fall along side macOS sierra.
Server 5.2 beta (build 16S1083q, app version 5.1.50) is now available for testing. This version is designed for use with OS X version 10.11.6 beta and macOS Sierra version 10.12 beta.
Developers can download it from the Apple Developer Downloads.
What's New in macOS Server 5.2
Profile Manager
Integration with Apple School Manager to get Managed Apple ID and class information
Skip the iMessage & FaceTime Setup Assistant pane in iOS 10
Skip the iCloud Desktop and Siri Setup Assistant panes in macOS Sierra version 10.12
Choose default app for audio calls for Contacts, Exchange, Google, and LDAP accounts
Set Bluetooth Modification restriction on supervised devices
Set Apple Music; iCloud Keychain Sync; and Sharing to Notes, Reminders, or LinkedIn restrictions for macOS Sierra version 10.12
Set new IKEv2 authentication method option or specify IPSec disconnect on idle timeout for VPN
Restrict Cisco fast lane Quality of Service marking or disable captive network detection for Wi-Fi networks
Configure IP firewall
Caching Server
Enhanced control over peer replication
SMB
To improve security, SMB connections now require signing by default.
NFS
AES is now a supported encryption type for Kerberized NFS
Xsan 5
macOS Sierra and Server 5.2 include support for the Xsan 5 file system. Xsan 5 is compatible with the Quantum StorNext 5.3 file system.
See Xsan Compatibility information before upgrading to Xsan 5.